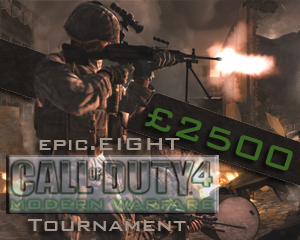 After completion of both the Upper and Lower Brackets, the two teams that have pulled through to the final confrontation are ESPC and TCM-Gaming. The current favourites coming into this match is ESPC, since they previously knocked down TCM-Gaming in the Upper Bracket Final. Whether TCM-Gaming can step up their game and counter ESPC's strong Backlot gameplay is to be seen, but one thing is certain, it will be an experience.
UPDATE:
With fantastic teamwork on CrossFire, TCM-Gaming confidently took the first round with an impressive 13-6 score, bringing the fight to ESPC and taking it to a decider match. This was mainly due to Paradox's fantastic harrassing at the bombsite, making it almost impossible for Fake to plant.
The second round however wasn't as successful for the Czech team, with ESPC taking their map choice with impressive ease. This wasn't without some controversy since ESPC called a Timeout halfway through the round (when the score was 9-3), which TCM-Gaming ingored therefore incurring a quick reset by ESPC. After the reset ESPC lost no momentum, and pushed forward winning four rounds and only conceding the one. This brought the final Round 2 standings to 13-4 in ESPC's favour, thereby defeating TCM-Gaming, and claiming the top spot (and the £1000) in the Epic.EIGHT Call of Duty 4 Tournament.
Grand Final

ESPC.ED

vs
TCM-Gaming
2

-

1



fake
paradox-
nipazki
germaine
sLWx
Froster
rEplan
hectic
saruz
Luboshmir
Final Standings
The makes the final result and prize distribution for the Epic.EIGHT tournament as follows:
1st
-
ESPC.ED
- £1,000 - 5x Tt Meka G Unit Keyboard - 5x epic.NINE tickets
2nd
-
TCM-Gaming
- £750 - 5x Tt Shock Gaming Headset - 5x £20 epic.NINE vouchers
3rd
-

Fragmasters
- £250 - 5x Tt Dasher Mouse Mat - 5x £10 epic.NINE vouchers